Geolocation mystery: Finding a fort in Helmand, Afghanistan
Journalist Christian Parkinson thought he managed to re-trace his steps when searching for a haunting old ruin. Was he successful?
All the way back in 2012 (remember when we thought the world would maybe end that year? lol), journalist Christian Parkinson was in Helmand, Afghanistan, embedded with the Royal Marine Commandos.
Somebody snapped this picture of him: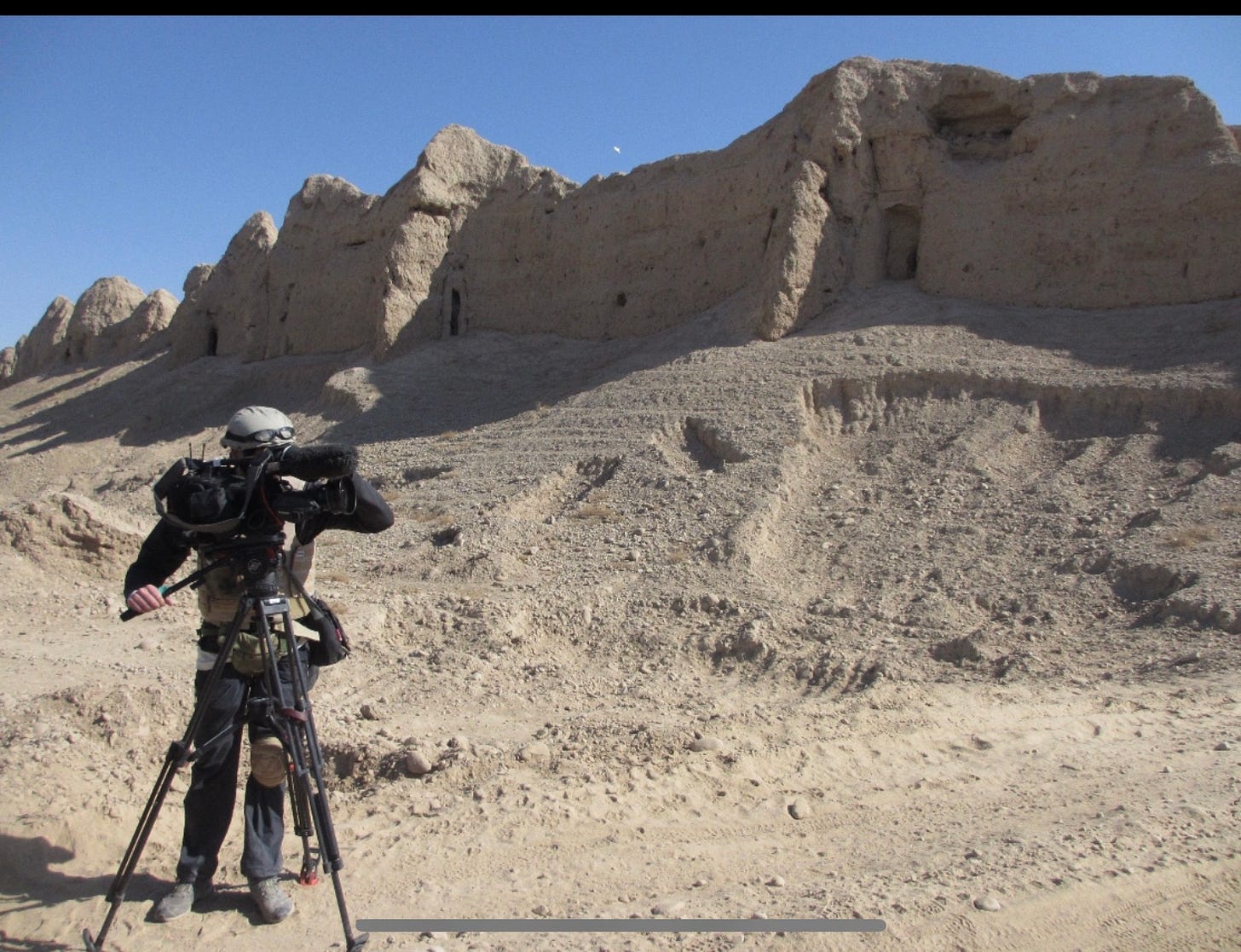 Years later, Christian wanted to track down exactly which haunting ruins were pictured in the background.
He did some of his own detective work on this one — but let's see if it matches up with the detective work of my followers!
I posted about Christian's Afghanistan mystery photo last week:
I then asked my followers if they could geolocate the picture.
Now, remember, we know it was Helmand, and we know it was 2012, and here are some more clues:
Please note that the object in the sky proved important to the challenge. If you don't look closely, and see that it's NOT a plane, it could really throw you off some:
We also had a bit of hilarity, as Christian was responding to to people posting their thoughts from a private Twitter account, not realizing that unless they had permission to read his account, they wouldn't be able to see his responses! (We had a good laugh about that later)
Ultimately, it was this footage that helped narrow down the search, which was occurring both in public and over DMs (thanks to Ken Campbell for a detailed DM breakdown — we'll get back to it in a second):
You won't be surprised to learn that as Christian was originally retracting his steps, he also zeroed in on the documentary footage (I have permission to use screenshots of Christian's private tweets as related to the geolocation challenge):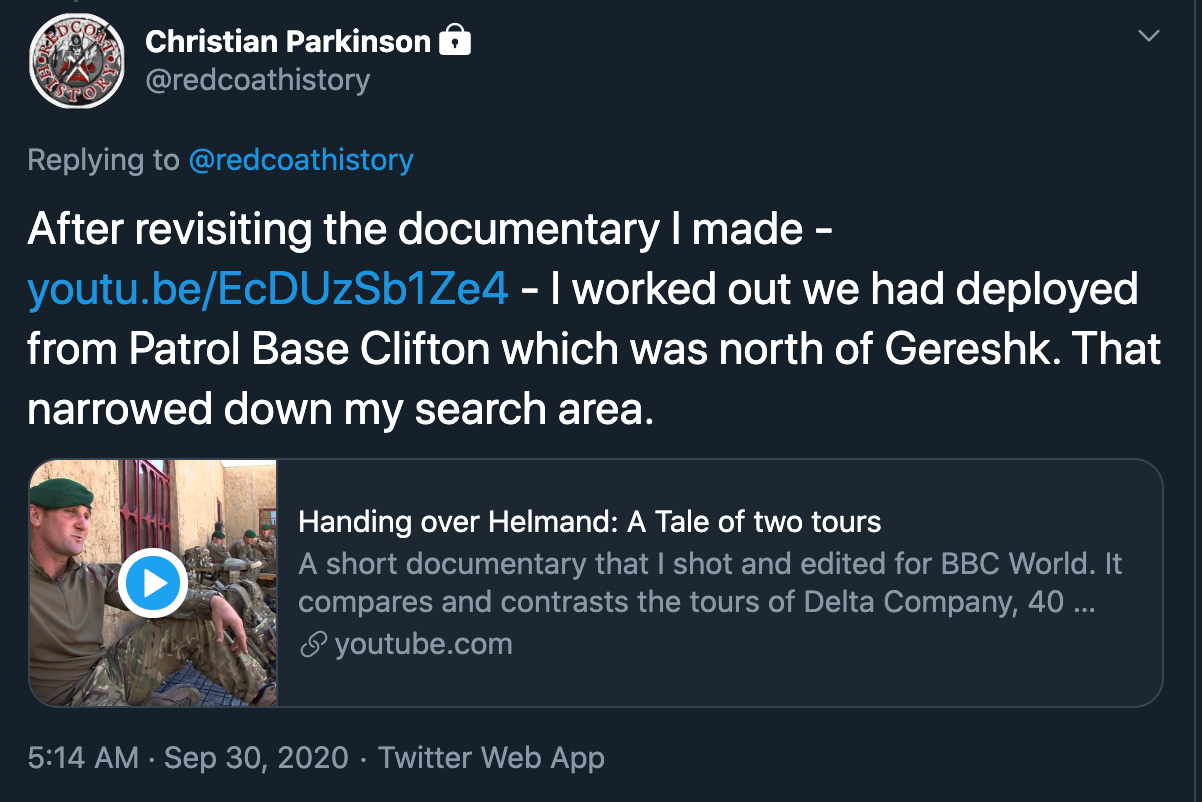 But, Christian also ran into some difficulty. Some of the people participating in my challenge were also struck by the Qala e Bost castle, but it was not an exact match: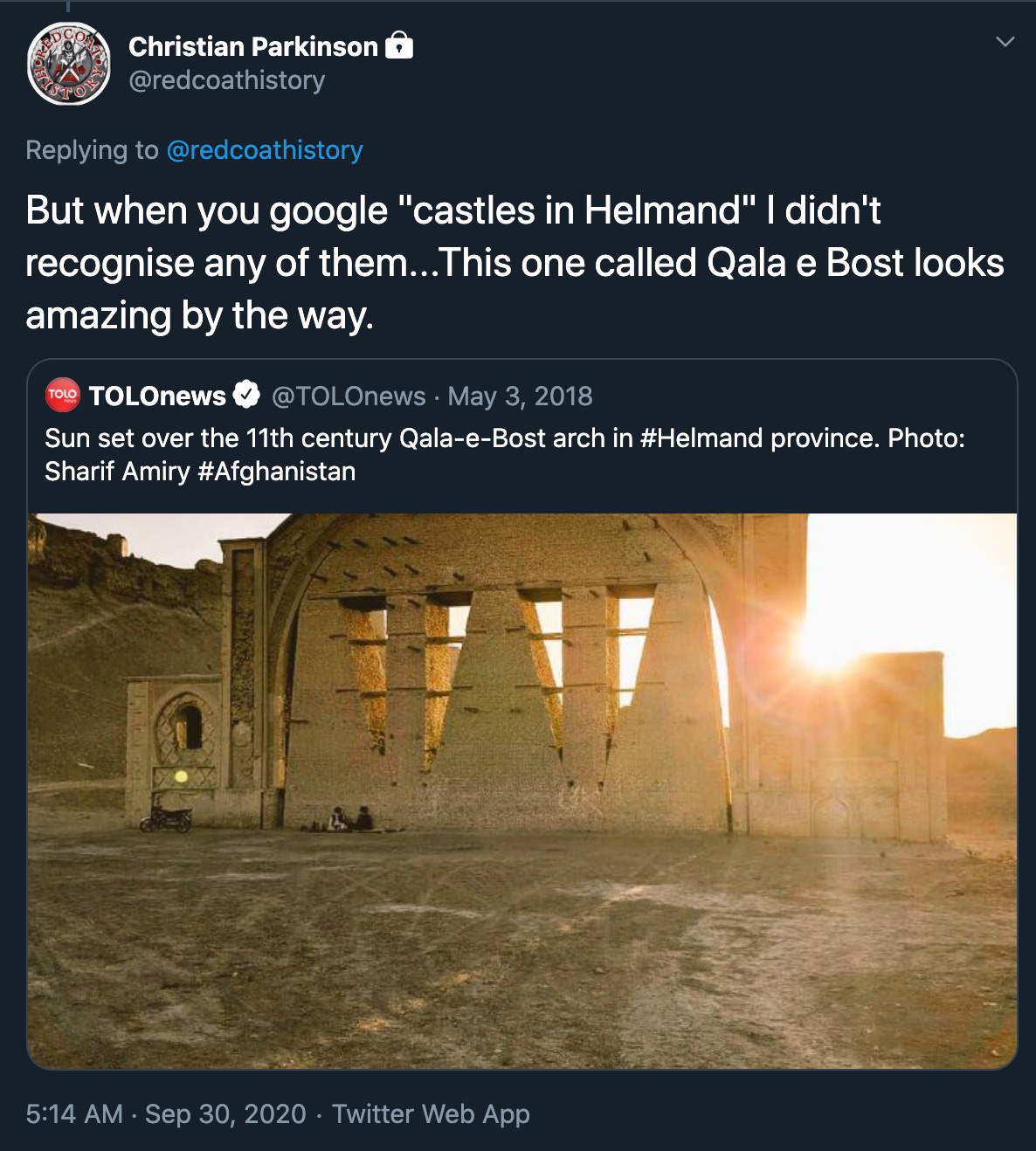 Now, this looks like Christian was getting warmer. It's the look of those walls, thicker, more aged by the elements, looking like they are beginning to fuse with nature: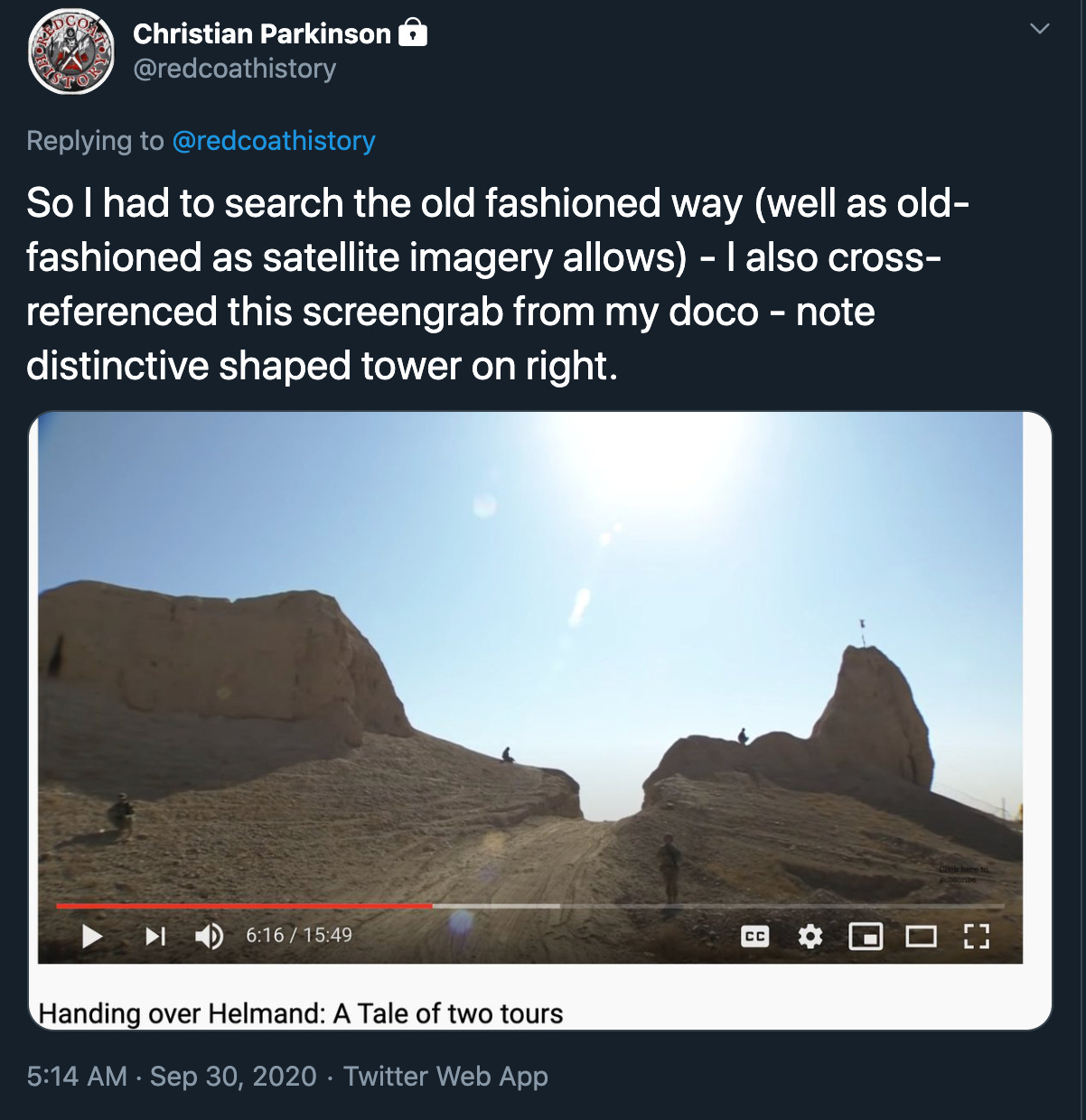 Now, take a look at where Christian arrived via satellite imagery: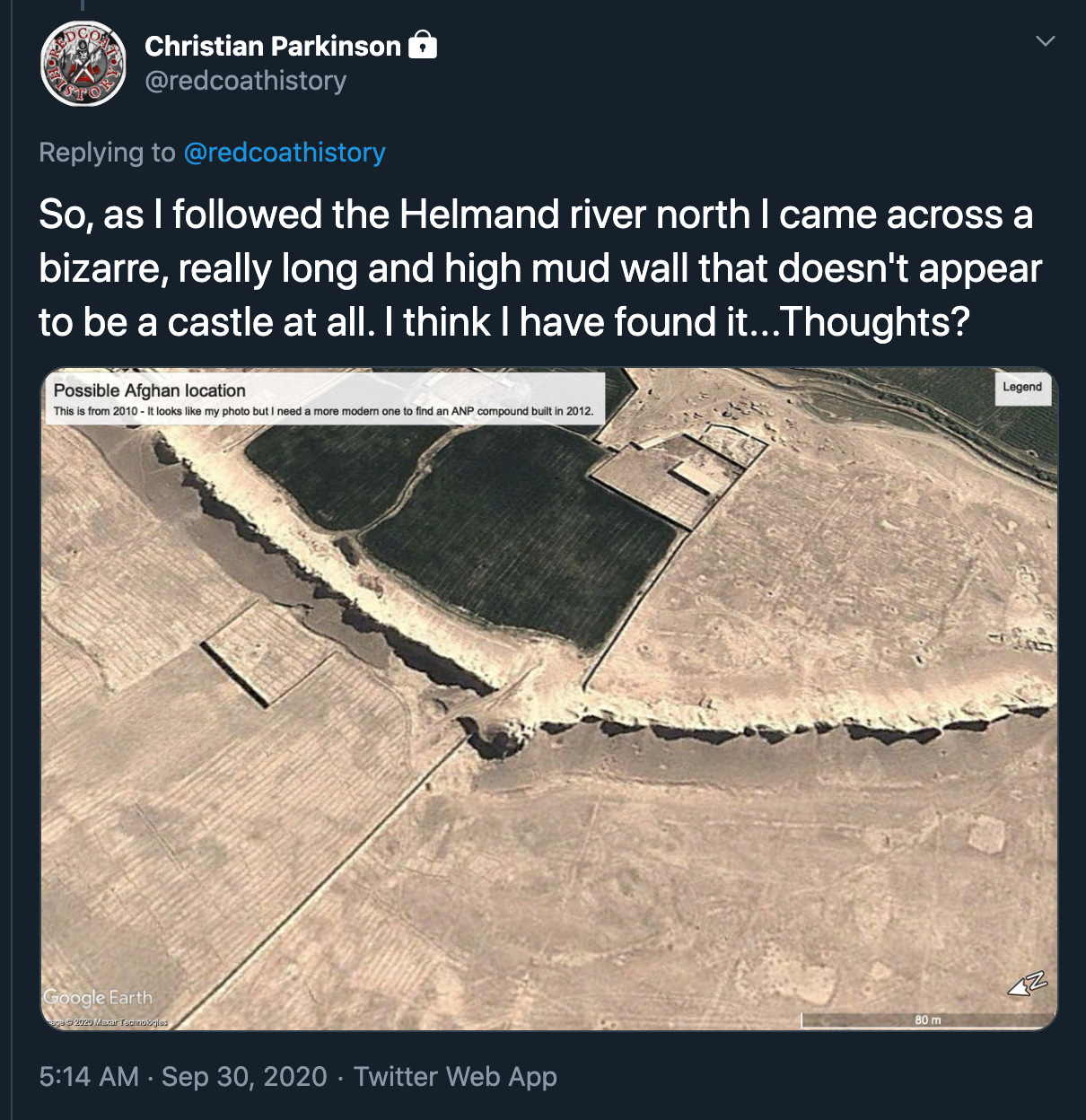 Looks like a wall that could be similar. And check out the tower in the middle of the picture! See how it kind of stands apart from the rest of the construction? Here, I've circled it for you: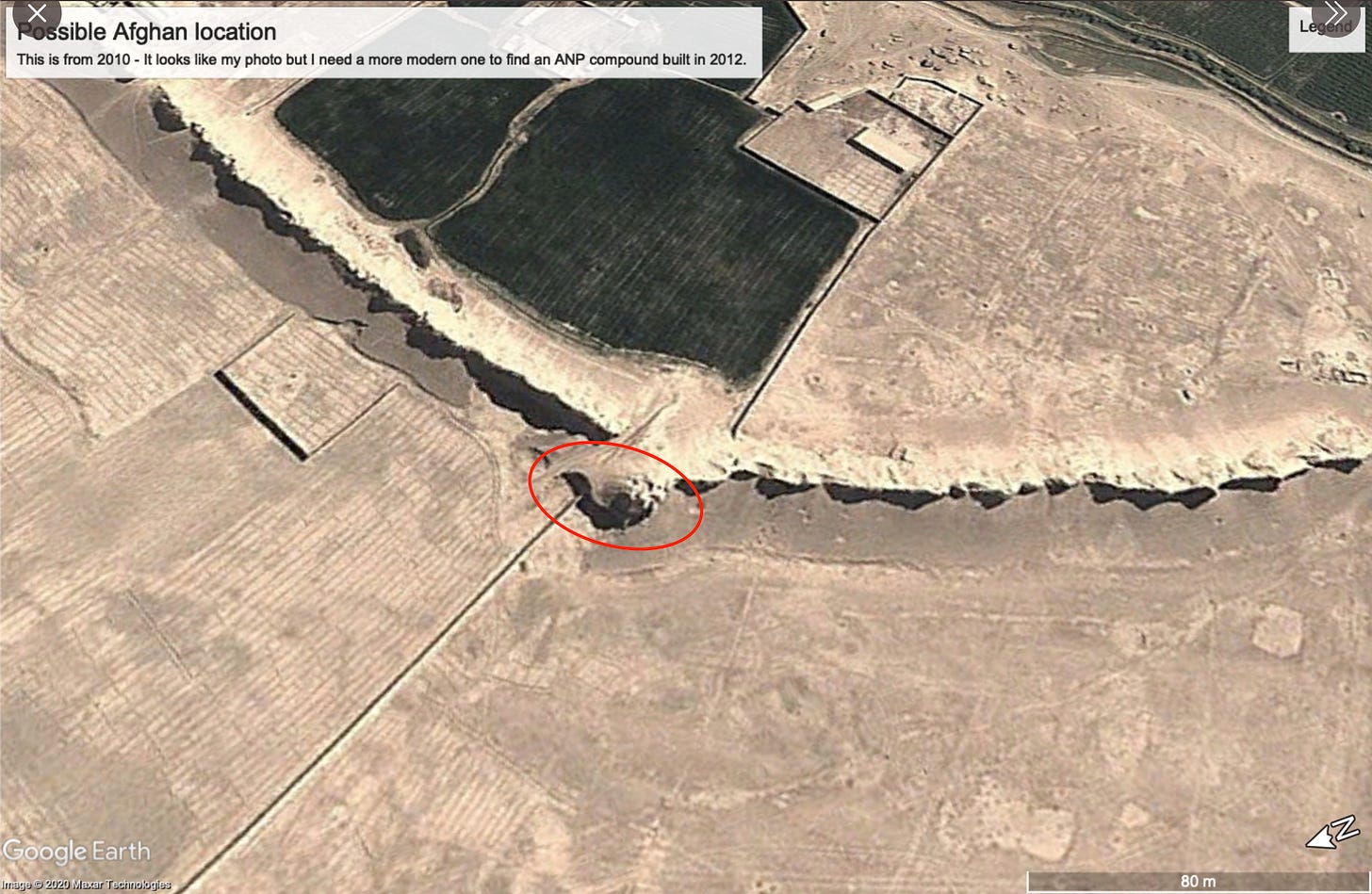 Let's get back to the public search. Did the people who figured out that it wasn't Qala e Bost zero in on the same location?
Check out what Luis found:
Luis was very helpful, and posted his methodology:
If you're new to geolocation, your head might be spinning, because the image that Christian posted and the image that Luis posted don't seem like they match up at first, right?
That's normal, that's how it works! What we're looking for are similar elements and features, in roughly the same location.
You see some of those roads? The field? NOTE THE WALL **AND** SHADOWS BEING CAST BY IT. Note the object on the ground. Here, we're beginning to see similar patterns emerging.
Here is Luis' image: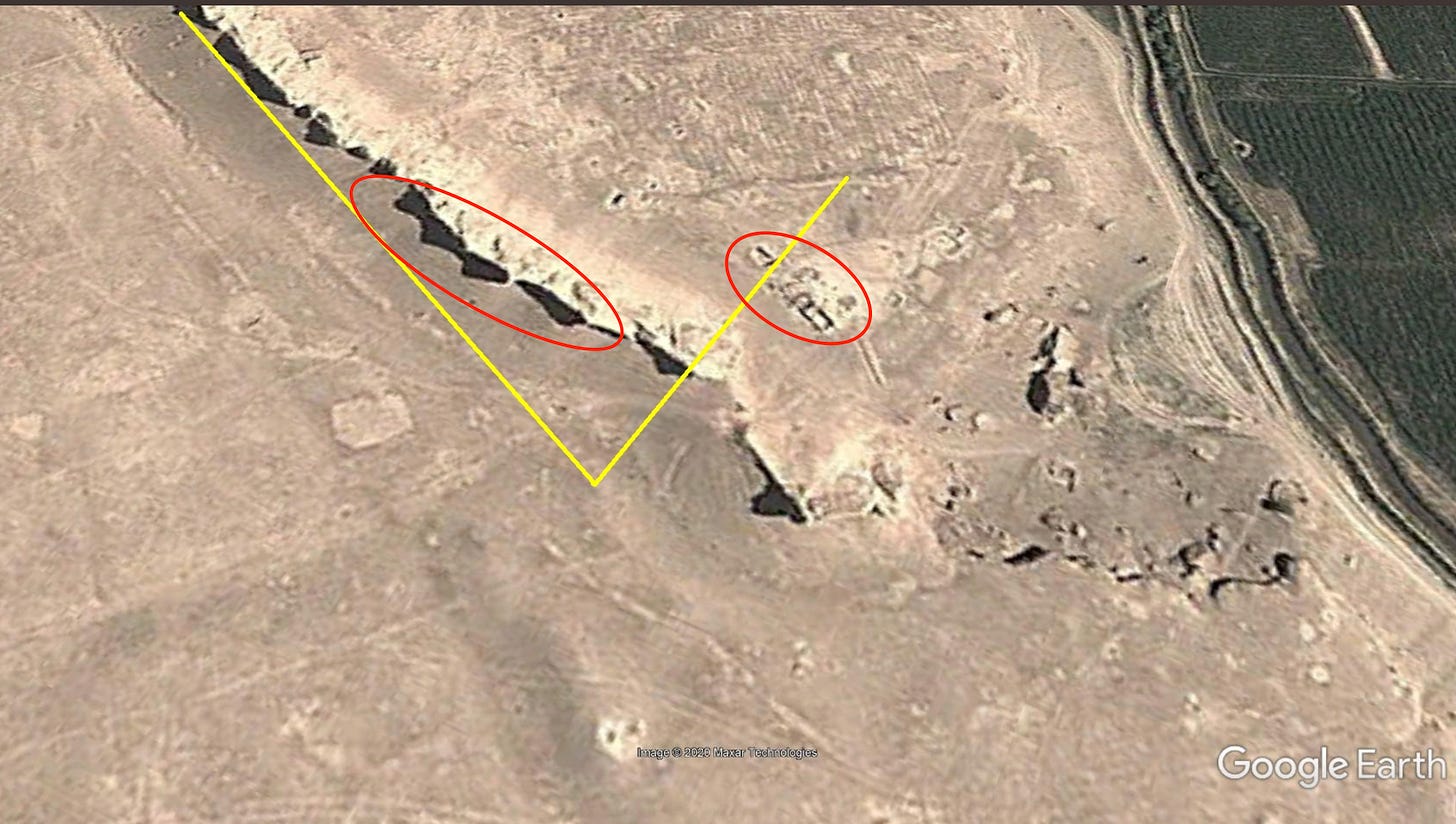 Now, I am circling the same elements from Christian's image: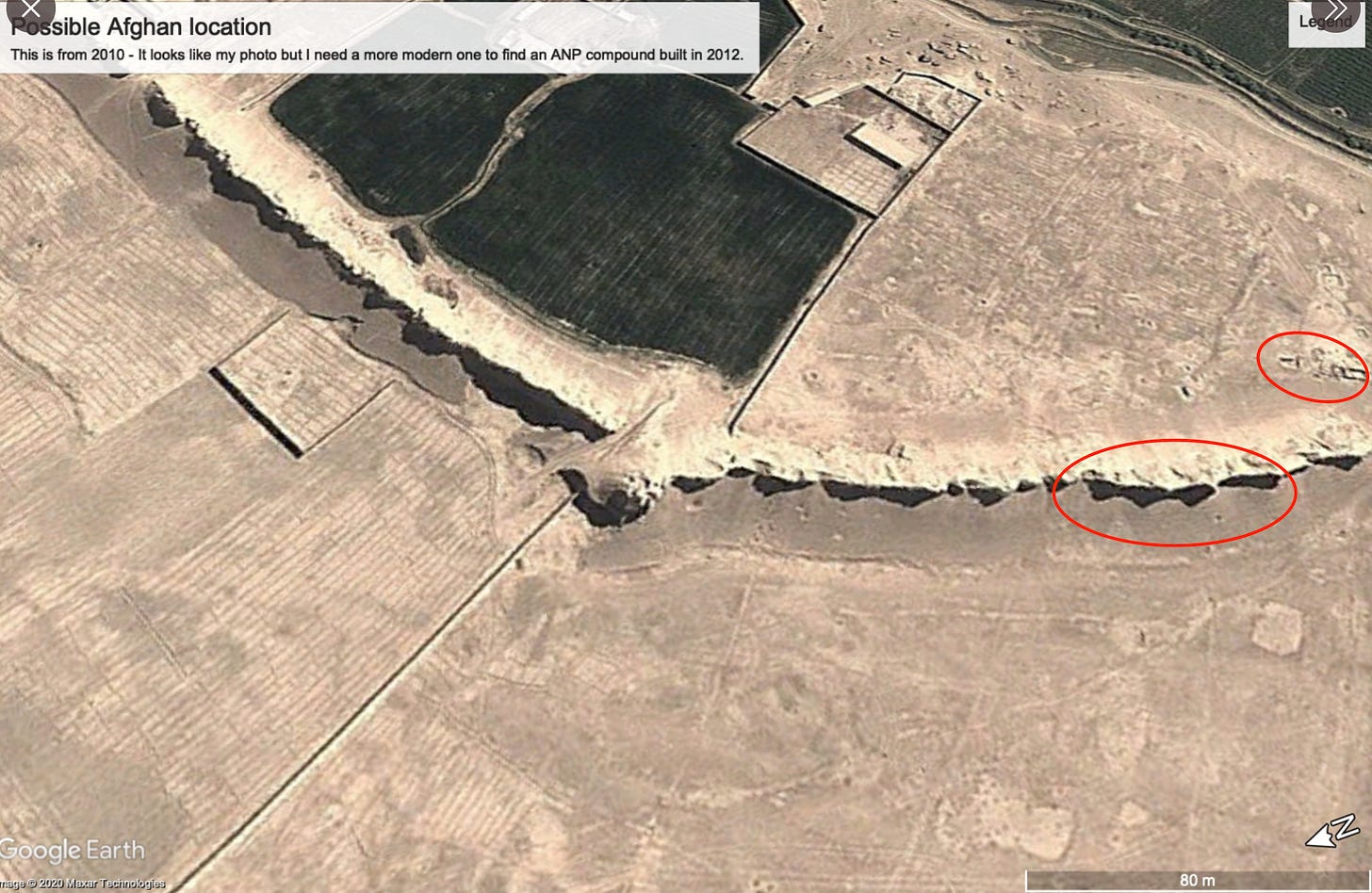 Boom! It's a match!
But what if you're still not sure? Especially if you're new to this and want to triple-check your work?
Ken Campbell to the rescue. He found the same location, also going by Christian's documentary footage, while helpfully breaking down his methodology, some of which you can read here. Please note the important details that Ken zeroed in on, such as the fact that Christian was not holding a combat camera at the time (the type of equipment being used in photos can be a big clue as what's going on, and what's going on can lead you to the correct location):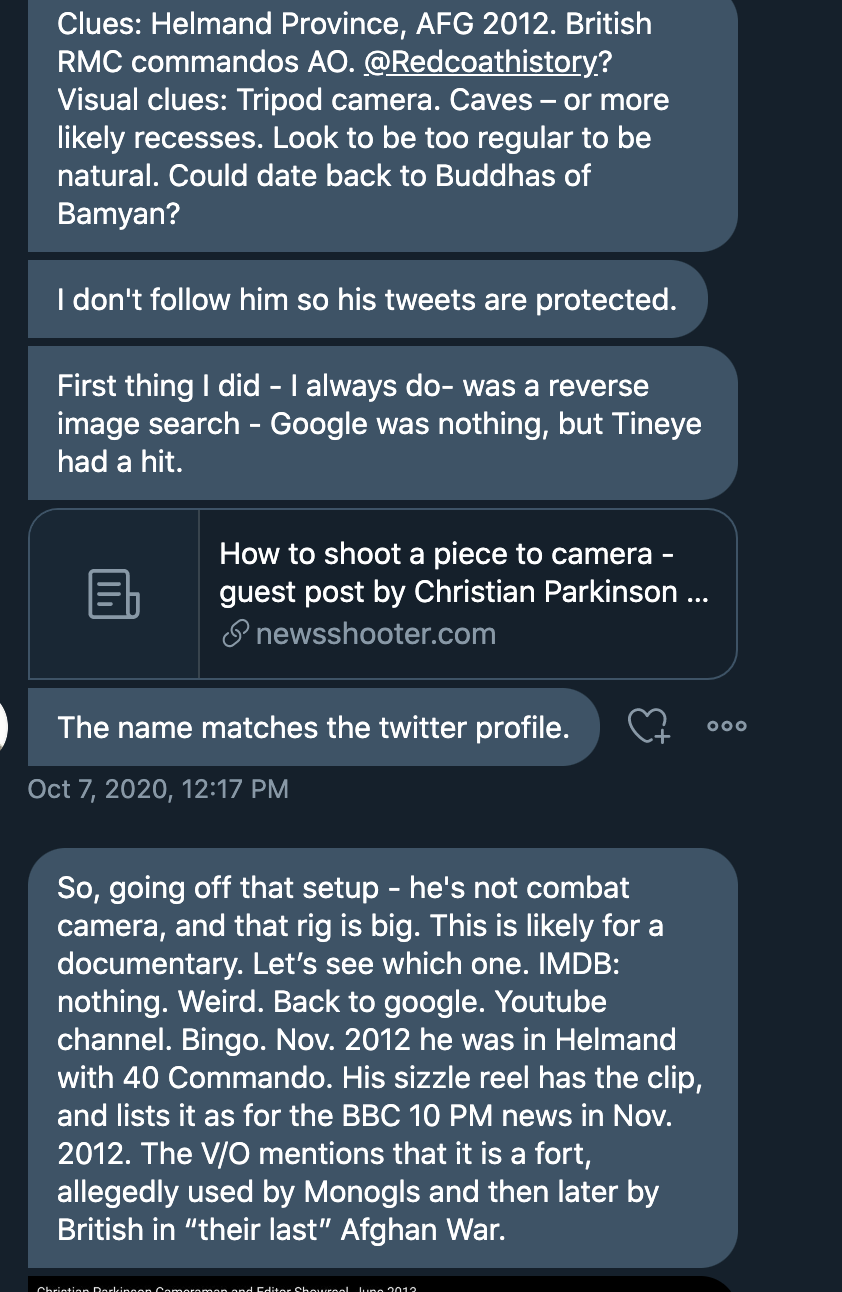 As Ken notes below, not every clue you discover is going to be helpful. For example, what if something is wrongly dated?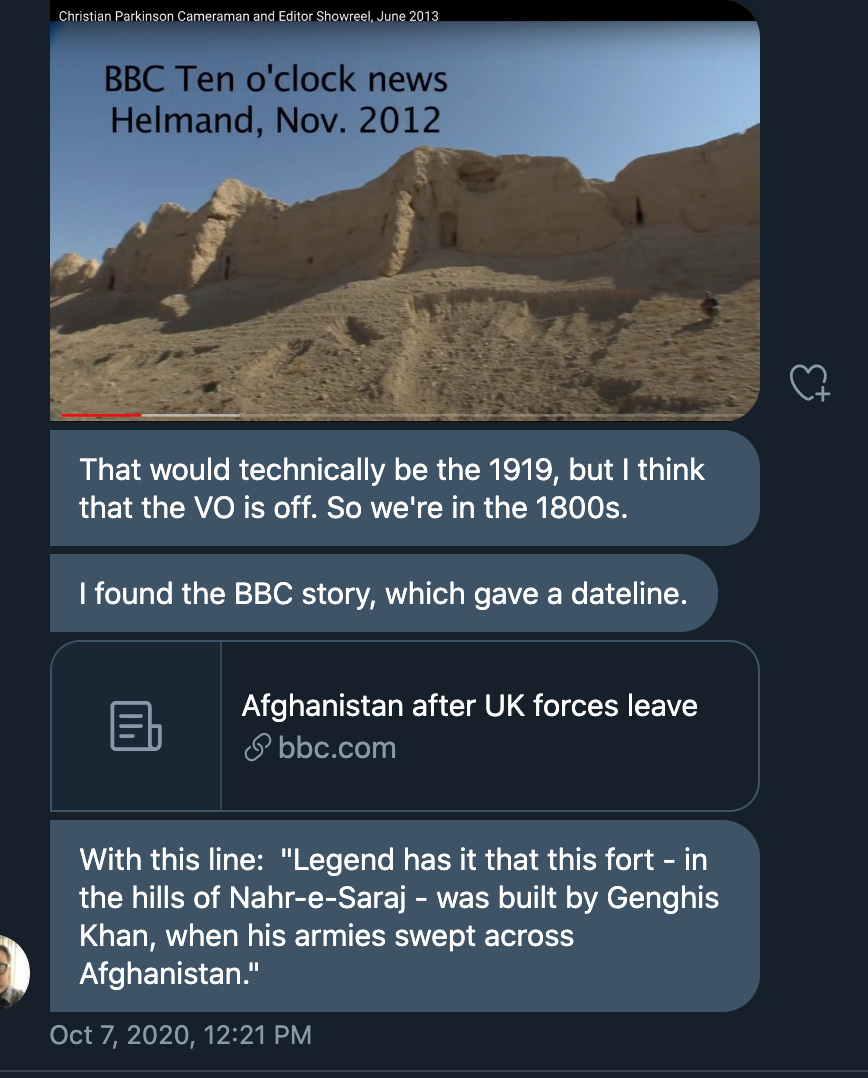 You have to allow for the possibilities of mistakes, and tracing and re-tracing your steps, as potential search areas branch off from one another — it's a bit like leaving a breadcrumb trail for your own thought process while playing detective.
Another important point that Ken made was that anglicized spellings can be DIFFERENT for the SAME areas, as they can change over time: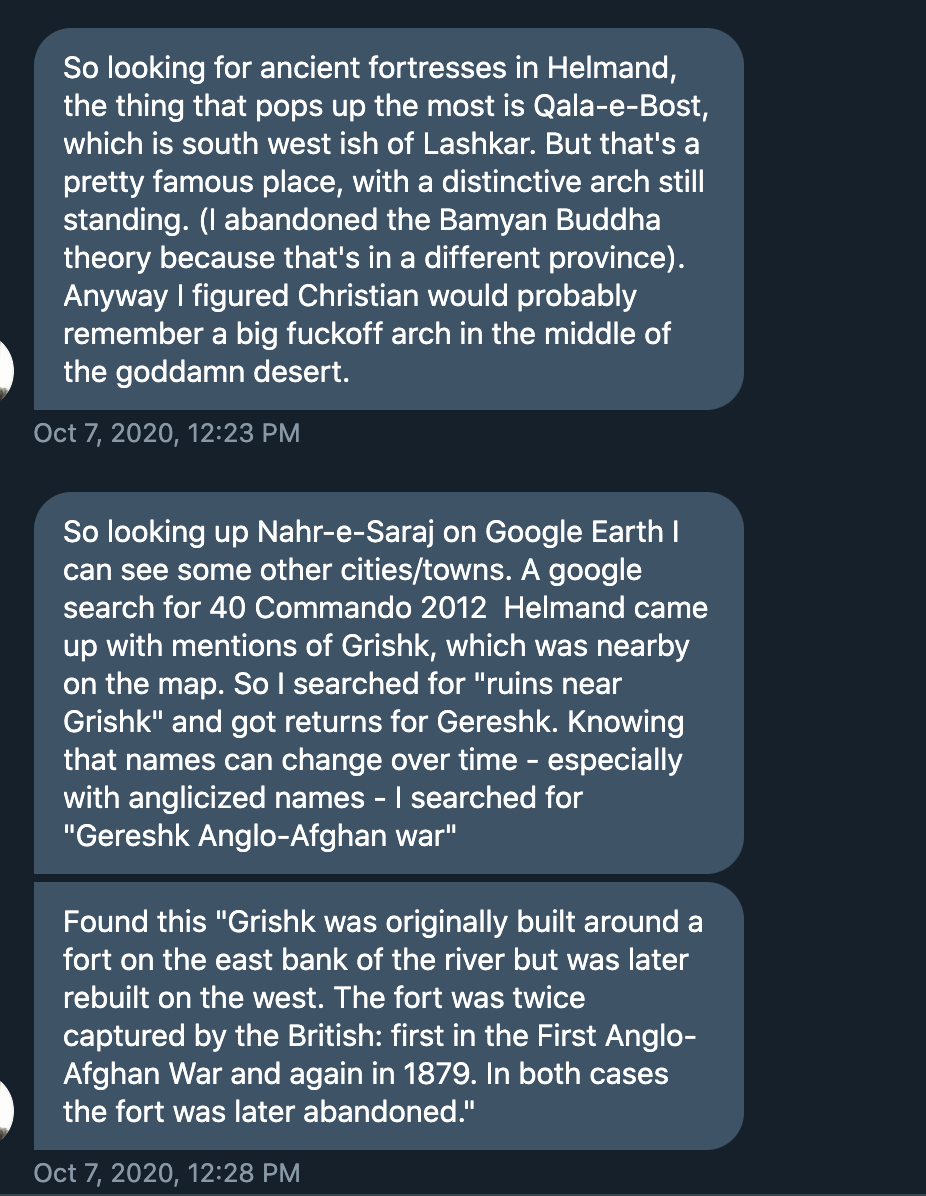 Ken was helpful enough to go into more detail — but for the sake of the exercise, I do believe you get the gist.
Why is this important? Well, for one thing, it's a cool visual detective story set in Afghanistan.
Here's the other thing — for us journalists, it can be hard to hold the threads of our professional history together. Geolocation can be an extremely helpful tool in helping us process what we were doing and where. This is especially true when geolocating photos to a high-stress environment.
Finally, this geolocation challenge relates to my favorite topic of online safety as well. Just because you're posting from a similarly random, mysterious location, doesn't mean that people won't be able to geolocate you. They can, and they will. As Luis pointed out, it only took him 45 minutes.
Please consider a paid subscription to help me do more of this work! Just $5 a month can make a huge difference.